Drs Catherine and Reginald Hamlin, established gynaecologists and obstetricians in Sydney, decided in 1959 to leave Australia in response to an advertisement to work at a hospital in Addis Ababa, Ethiopia.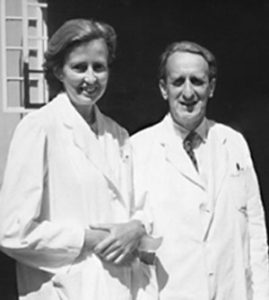 The couple was horrified by the prevalence of obstetric  fistula, a condition arising from prolonged obstructed labour  that leaves the affected woman incontinent of urine, with 20%  suffering bowel incontinence as well. Permanently leaking  bodily fluids, they often become social outcasts, without hope,  and live in the most miserable conditions. Obstetric fistula,  formerly common throughout the world, is now almost non- existent in industrialized countries, thanks to better obstetric care, but is still prevalent in developing countries.
Pioneering fistula treatment
At the time the Hamlins started their work, there was little treatment available for the condition anywhere in the world, but the Hamlins developed surgical techniques, began to operate on their patients and eventually achieved a 93% success rate. Soon, women started arriving at the hospital from all over the country hoping for the operation. Small hostels were built on the hospital's grounds to accommodate them as they awaited their turn. All treatment was – and still is – free of charge.
Addis Ababa Fistula Hospital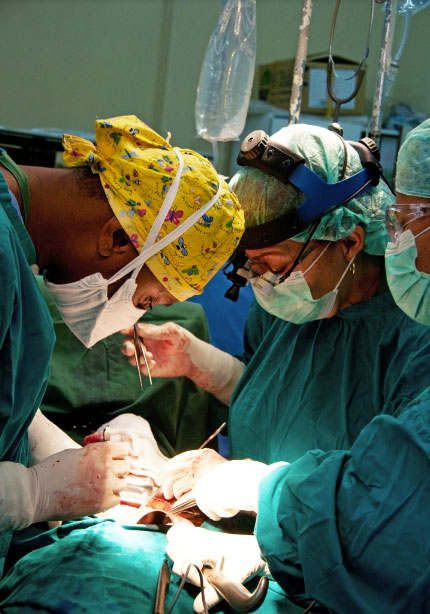 Recognising that they needed their own hospital, the Hamlins went fundraising abroad. Eventually, in 1974, Addis Ababa Fistula Hospital was opened. Since then it has become a global centre of expertise in fistula repair and also trains surgeons. In addition to the main hospital in the capital, there are now five regional hospital centres in other Ethiopian cities to make the treatment more widely accessible.
Their doctors have treated over 50,000 women in total (as of 2017).
An addition of old is Desta Mender – "Village of Joy " in Amharic -formerly a home for women so badly injured that they need long term care. Nowadays it is a rehabilitation centre where patients are prepared for returning to their local society to resume normal life. They receive training in basic skills in order to be able to live independent lives – a rehabilitation centre for women so badly injured that they need long-term care. Patients who need help to reintegrate into society can here also receive training in basic skills to become selfsupporting when they leave. This is typical of the Hamlin holistic approach to their patients welfare.
On arrival at the hospital the patients are usually traumatised by the obstructed labour they have undergone, losing a baby and the social consequences of helplessly leaking urine.  They are  therefore treated with respect and compassion, the restoration of their dignity being one of the main goals of the care offered.
Hamlin College of Midwives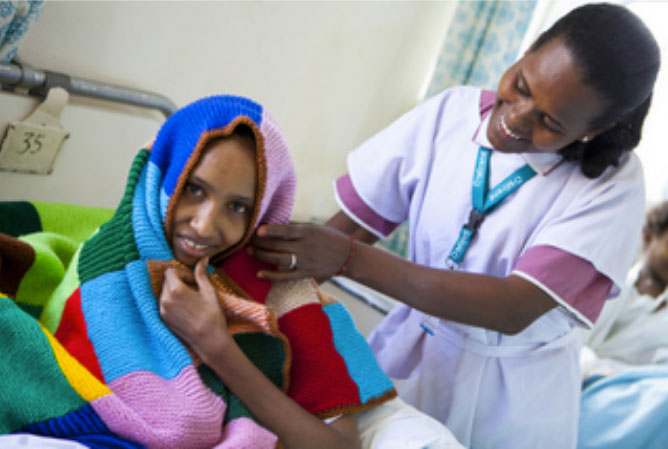 In recent years Hamlin also focuses on the important area of fistula prevention with the establishment of the Hamlin Midwifery College, also situated in Desta Mender just outside Addis Ababa.  At least 20 midwives are annually graduated who are then deployed in rural health clinics around the country in order to prevent obstetric fistula in the first place, to raise the quality of care in childbirth generally and to lower the high maternal death rate.
The hospital is funded by eight international partner organisations of which the Swedish Foundation is one.
The Right Livelihood Award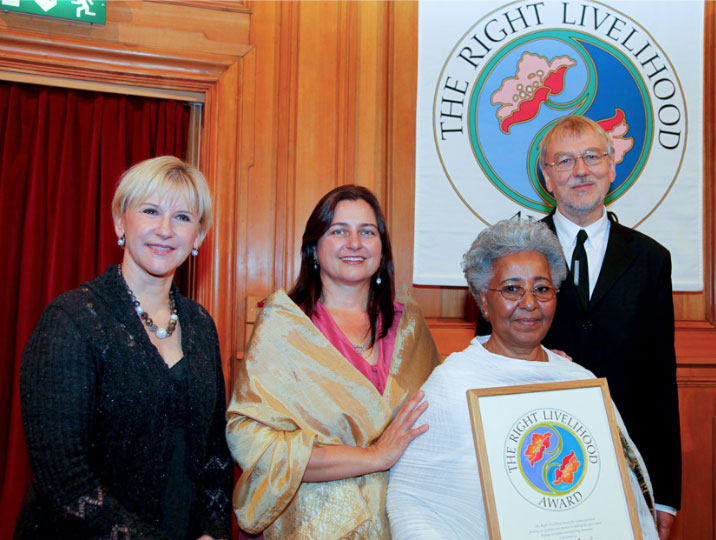 In 2009 Dr Catherine Hamlin was awarded the Right Livelihood award "for her fifty years dedicated to treating obstetric fistula patients, thereby restoring health, hope and dignity of thousands of Africa´s pooorest women."
Dr Catherine was unable to attend the awarding ceremony herself. Instead she was represented by matron Ejigayehu and Annette Bennett from The College of Midwives. Here seen with Jakob von Uexküll and Margot Wallström, then  Commissioner with the EU.
For further reading please visit the web sites for USA, UK, Australia and Ethiopia.